Marketing - Branded Experience
This award celebrates creative and innovative design for branded experiences intended to persuade an audience to purchase or take some action upon products, ideas or services. Consideration given to the technical, conceptual and aesthetic elements, user experience, audience engagement and message delivery.
Nominations in Category
Marketing - Branded Experience
As part of a national rebrand designed to celebrate the best of the past by redefining it for the future, Optus Singtel embarked on a redesign of their single biggest brand experience touchpoint...their retail stores. The second-ranked mobile carrier worked with greater group to redefine the customer experience, introducing innovative design, interactive selling tools and communications to deliver an experiential store. As part of a 300 store rollout, George Street is the premier flagship in Sydney.
Marketing - Branded Experience

The Creative Fringe is a dynamic and inspiring co-working space that houses a syndicate of world-class creatives. Their goal is to inspire, amaze, push the boundaries of conventional thinking and deliver innovative and creative solutions. Our brand strategy around the development and marketing of this co-working creative space has been to harness the brand personality of The Explorer which expresses independence, self direction and finding freedom. We have a very strong online marketing strategy that is followed through from social media (Instagram, Facebook, Twitter, Pinterest and YouTube), coupled with a fortnightly blog and a fortnightly EDM - all linking back to the website. Our strategic use of colour in the brand development, echos multi facets of the creative industry to coming together to form one whole. The concept is to promote world-class creatives in Western Sydney, ready to design, write, market, support and inspire your business.
Marketing - Branded Experience

Taylors is one of Australia's leading premium wine brands. Founded in 1969, it is a highly successful third generation family owned wine business with sales of more than 650,000 cases per annum generated in 30 markets globally. The brand is best known for its Taylors Estate range, the no.1 selling Australian wine range in the $14-$20 segment. Prior to 2013 Taylors portfolio offering extended between $10 and $60 per bottle in retail pricing terms. With the core of Taylors sales volume being generated in the Premium ($10-$20) and Super Premium ($20-$40) segments future growth opportunities were constrained due to the scale of the brand's success in these segments. Taylors identified the opportunity to extend their trademark reach into the Ultra Premium ($40-$200) and Luxury (>$200) segments as a means to not only pursue additional growth opportunities but also with a view to the additional halo benefit that a legitimate Ultra Premium and Luxury trademark offering could extend across the entire Taylors portfolio. And so Taylors 'The Visionary' Cabernet Sauvignon was born…
Marketing - Branded Experience

The Yates My Garden Mobile app is perhaps the world's most comprehensive interactive guide to gardening right in your pocket. The multi platform app provides gardening pros and enthusiasts with everything they need to design, grow and manage their perfect garden, featuring an Augmented Reality Garden Visualiser with a wide selection of virtual plants. The app steps the user through each stage of the garden life cycle; finding inspiration, designing, planning, planting, growing, managing and solving pesky problems that stop the garden from thriving. The app is available to use across iPhone, iPad and Android; it is also fully integrated with Social Media, Yates website and their popular Garden Club community.
Marketing - Branded Experience

After two decades at the forefront of innovation in the metal coatings business, Axolotl Group has evolved into a world leading architectural product manufacturer. With our expansion into glass and concrete coating solutions, as well as new sub brands; Axolotl Art Projects and Axolotl House, we continue to invent solutions for any design challenge. To celebrate our commitment to innovation, we are excited to announce the official launch of Axolotl's new brand identity. Axolotl's in-house design team have reconsidered what our brand stands for, stripping Axolotl back to it's core and redeveloping everything from a new logo, website, social media pages and marketing tools. Re-considering Axolotl as a company throughout the entire re-branding process highlighted the opportunity to expand into sub brands, Axolotl House & Axolotl Art Projects. A strong unified brand connection links each brand, and provides the ability to customise interfaces relative to each companies' products and services. 'Redefining boundaries' outlines the ethos of Axolotl from the inception of the brand, and is a fitting sentiment as the company moves into the future and continues to expand.
2014 Presentation
Photo Gallery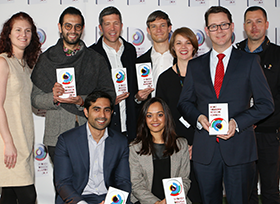 Don't forget to tag yourself, friends and colleges in the photos.
Best Of Categories
All entries submitted are automatically eligible for the relevant "Best of" category.