Landscape Design
This award celebrates creativity and innovation in the use of practical, aesthetic, horticultural, and environmental sustainability components, taking into account climate, site and orientation, site drainage and irrigation, human and vehicular access, furnishings and lighting.
Nominations in Category
Landscape Design
One Central Park is an architectural collaboration between Ateliers Jean Nouvel and PTW Architects located in Sydney's downtown. This high profile project on the former Carlton United Brewery site, is the first stage of the Central Park development. One Central Park comprises two residential towers and a lower retail podium addressing the site's Broadway frontage. The built form is veiled by a combination of vertical gardens, designed by Patrick Blanc, as well as green facades for each residence, the planting for which has been developed and delivered by ASPECT | OCULUS. ASPECT | OCULUS were engaged in early 2011 to develop the initial concept designs for the facades, as well the internal residential lobby, ground floor planting, podium garden, sunken courtyard and atrium planting for the retail levels. One Central Park is the largest green facade in Australia with considerable microclimatic challenges. To ensure planting success, the planting design and technical development was tested through a rigorous process. A wind speed and sun/shade analysis was modelled to determine plant suitability for the facades, and light lux levels were recorded to determine hardiest planting for low level light in the lobby and atrium.
Landscape Design

Director and Founder of The Greenwall Company, Mark Paul has extensive plant knowledge and planting design, which stem from a childhood/lifelong passion for lithophytic and epiphytic plants, and their habitats. Originally training as a Marine Biologist and working for the CSIRO, Mark worked intimately with their habitats, enabling him to successfully design and create a system that was not only energy efficient but also long lasting. Due to Mark's designs, The Greenwall Company can pride themselves on building their walls from 94 per cent of recyclable materials that would otherwise be destined for Australian landfill, taking the benefit of their greenwalls and green roofs beyond just their aesthetic appeal. The residential greenwall built at Mark's private residence has been designed to mimic the growing conditions found where greenwalls occour in nature. The most immediate benefit of a greenwall is its incredible beauty. The greenery is literally a living skin, allowing unlimited design opportunities. In Australia alone there are over 5,000 suitable native lithophytic and epiphytic plant species that colonise on rocks and trees. Greenwalls have also been proven to reduce ambient temperature and offer sound and other insulating qualities to a buildings exterior skin.
2014 Presentation
Photo Gallery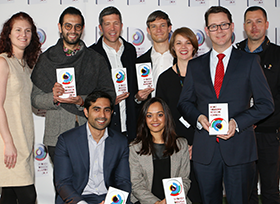 Don't forget to tag yourself, friends and colleges in the photos.
Best Of Categories
All entries submitted are automatically eligible for the relevant "Best of" category.