Interior Design - Retail
This award celebrates innovative and creative building interiors, with consideration given to space creation and planning, furnishings, finishes and aesthetic presentation. Consideration given to space allocation, traffic flow, building services, lighting, fixtures, flooring, colours, furnishings and surface finishes.

Nominations in Category
Interior Design - Retail
As part of a national rebrand designed to celebrate the best of the past by redefining it for the future, Optus Singtel embarked on a redesign of their retail store experience to create the new YES concept. The second-ranked mobile carrier worked with greater group to redefine the customer experience, introducing innovative design, interactive selling tools and communications to deliver an experiential store. As part of a 300 store rollout, George Street is the premier flagship in Sydney.
Interior Design - Retail

19 Luxury is an online fashion retailing store, mainly engaged in sale of luxury goods such as HERMES, CHANEL, LOUIS VUITTON and is specially designed for female customers. Its business office is located in Lumiere, one of the most iconic buildings in Australia. Clients would like to establish their first concept store exclusively to VIP customers. The original idea was to develop a private conceptual salon for customers to share their shopping experiences, stories, and interests. Our design allows the customer the opportunity not only to buy physical products but also provide them with a full emotional and sensory experience with an ocean wave concept in mind. The space design is meant to resemble wave aesthetics depicting luxury, comfort, elegance, and simplicity, which reflect the luxury product's concept.
Interior Design - Retail

The Eyesite specialise in optometry for children and are based in Caringbah. They were after bright and engaging design for their new premises to appeal to their young clientele. We worked with bright colours and periscopes to deliver an inspiring fitout. We took a holistic brand approach to the design and delivered a new logo, shop signage and interior graphics to compliment the scheme.
Interior Design - Retail

Inspired by French delicatessens of yesteryear, A Little Something brings a sophisticated mix of provincial and contemporary design to the Sydney International Airport. Siren Design's finely detailed retail solution aptly showcases the calibre of the fine gourmet brands offered within, providing customers with a uniquely charming, high end retail experience.
2014 Presentation
Photo Gallery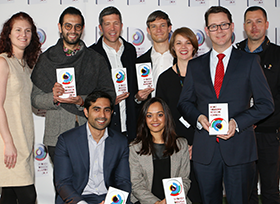 Don't forget to tag yourself, friends and colleges in the photos.
Best Of Categories
All entries submitted are automatically eligible for the relevant "Best of" category.