Interior Design - Public or Institutional
This award celebrates innovative and creative building interiors with consideration given to space creation and planning, furnishings, finishes and aesthetic presentation. Consideration also given to space allocation, traffic flow, building services, lighting, fixtures, flooring, colours, furnishings and surface finishes.

Nominations in Category
Interior Design - Public or Institutional
Bluey's Treehouse is a purpose built early learning centre, inspired by the classic Australian Coastal home. Unlike the average child care centre, each room has natural, homely touches which include recycled timber, wool carpets, organic sheets, vintage collectibles, Porters wallpapers and painted feature walls. The result is a warm, nurturing environment which stimulates friendship, play and learning. The warmth of the inside was extended to the outside play area, which includes a "treehouse", wooden dining settings and old fashioned swing chair. It is the little details at Bluey's such as the original treehouse painting in the foyer, the heritage style room signs and the emphasis on Australian memorabilia that make this project so outstanding. Like in a wonderful home, there is something to capture your interest and imagination in every part of this space. As soon as you step into Bluey's, past the ship's bell and through the main entrance with a hand carved door knob, you feel like you are stepping into an "enchanted home". In fact the Educators are thrilled to be working at Bluey's which comes with their own staff/living room and the parents dropping off their children find it hard to leave.
Interior Design - Public or Institutional
This project for a new childcare centre sensitively inserts new architecture into a former industrial warehouse building, located in the inner west of Sydney.
Interior Design - Public or Institutional

This striking internal 'neighbourhood' within an existing library has brought a sense of belonging and identity to the Australian Catholic University's compact North Sydney campus. The comprehensive refurbishment has delivered social and learning facilities that embrace the cultural identity of the ACU and offer young, vibrant, welcoming environments that are reminiscent of home and community. "When strangers start acting like neighbours…communities are reinvigorated" Ralph Nader Spaces to gather, places to learn and quiet corners to be on your own have all been included in this home away from home.
Interior Design - Public or Institutional

The Sydney Commonwealth Parliament Offices (CPO), located across three levels at 1 Bligh Street, provides accommodation for Australian Federal Government Ministerial and Parliamentary staff including Sydney-based Ministers, the Leader of the Opposition, visiting Senators and Members and the Prime Minister. It also provides an important portal for Australian Parliamentarians when meeting and collaborating with local and international guests and dignitaries.
2014 Presentation
Photo Gallery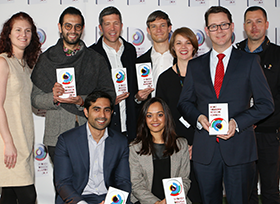 Don't forget to tag yourself, friends and colleges in the photos.
Best Of Categories
All entries submitted are automatically eligible for the relevant "Best of" category.