Interior Design - Corporate
This award celebrates innovative and creative building interiors, with consideration given to space creation and planning, furnishings, finishes, aesthetic presentation and functionality. Consideration also given to space allocation, traffic flow, building services, lighting, fixtures, flooring, colours, furnishings and surface finishes.
Nominations in Category
Interior Design - Corporate
Media Agencies, Wunderman and Bienalto were to move from two floors in Darlinghurst into one floor at 35 Clarence Street, where they would exist in the same building as some of the sister companies under the WPP umbrella. They were after a bright and inspiring new work space that would excite staff and clients alike. They were keen to explore an Activity Based Work setting that responded to changing workplace conditions and that would enhance workplace culture. As an Activity Based Working project, we had to allow for a variety of work settings including seamless partition-less bench style workstations, high bench style project tables, enclosed booths, small quiet rooms, meeting rooms as well as an active work-friendly reception area and large communal breakout that would be able to host large meetings. The design response was bright and playful. Our aim was to break away from tradition, so we experimented with materiality and colour. Drawing on the colour palette from the company logo, local graffiti artists were engaged to paint the arrival area to an immediate sense of the media agency's brand for any visitors. A snapshot of the inner working of Wunderman and Bienalto.
Interior Design - Corporate

Media agency TNS were moving from a traditional office space and work style in Pyrmont to a new agile workspace in North Sydney that would respond to changing work styles. They wanted to work primarily with what existed on site and inject the space with new life. The client expressed an interest in Activity Based Working. This meant that staff had no assigned seating, so it was essential that we created a variety of unique spaces for staff to work in, reinterpreting what was there already to come up with a range of solutions within the one space. The floor was divided into different zones that both nurtured quiet teams and supported the more collaborative and active teams. We provided a range of environments to work in that included both round and bench-style workstations, booths, meeting rooms and lounge settings. Staff would be provided with a locker and the freedom to choose where to sit each day. The project called for a big change of mindset for staff. We assisted with the transition and the client couldn't be happier with the result. We have been engaged to roll out an ABW workplace in the TNS Melbourne office.
Interior Design - Corporate

The Hollard Austalia Group consists of several insurance brands that were required to be co-located. Siren Design brought these brands together in a highly collaborative environment spread across five floors. Each floor offers something unique to the brands that occupy it, both from a functional and aesthetic point of view. The defining business objective was to bring everyone together under the family tree.
Interior Design - Corporate

The NetApp office in North Sydney displays an enthusiastic, innovative use of colour in all areas of the site including the breakout, workspace and meeting areas. The vivacious personality of the space drives performance and excellence from staff through an adaptive and influential atmosphere. For a company whose core responsibility is to provide innovative and highly efficient data storage solutions for mass organisations, it was imperative that their work place could stimulate a consistent flow of fresh ideas for an industry growing and changing rapidly through technology. NetApp's company brand identity was used as the crux of the design, and held continuity amongst the entirety of the office from the reception space and throughout the workspace.
Interior Design - Corporate

FLUIDITY AND LUMINOSITY: THE GREENLAND DISPLAY SUITE. The display suite for a new mixed-use tower by PTW and LAVA merges natural materials with high tech fabrication technologies. The organic-shaped marketing suite, with cool white surfaces and freeform furniture, showcases the new Sydney Greenland Centre, and is Nature and Technology in harmony. People in the 21st century are looking for spaces that link them to nature, and the organically-shaped forms found in nature - waves, canyons, clouds – were the inspiration to create a beautiful, efficient and connective space.
Interior Design - Corporate
Flow Athletic fitness studio was born out of a top floor on busy Oxford St Retail Precinct in Paddington. Siren transformed it into an intimate training ground, intent on producing a strong concept visual - the space became an urban retreat that is grounded, open and inviting. Flow Athletic offers yoga, TRX and Spin classes.
2014 Presentation
Photo Gallery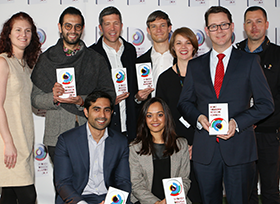 Don't forget to tag yourself, friends and colleges in the photos.
Best Of Categories
All entries submitted are automatically eligible for the relevant "Best of" category.