Installation, Display, Exhibit & Set Design
This award celebrates innovative and creative design for a temporary building, interior, exhibition, fixture or interactive element. Consideration given to materials, finishes, signage and experience.
Nominations in Category
Installation, Display, Exhibit & Set Design
TetraBIN explores how innovative digital technologies can be used to motivate positive change in urban environments. In particular it tackles the problem of littering by associating the act of rubbish disposal with a fun and rewarding activity. The act of putting rubbish into a bin is turned into a game, where a piece of rubbish is mapped to an interaction within a game world displayed on a computer controlled screen surrounding the bin. Depositing of rubbish into a bin, which is normally seen as an insignificant act requiring minimum thought is given importance as the participant must drop their rubbish into the bin at the right moment to advance further in the game. This experience of an augmented reality in which actions in the real world affect the virtual world lead the participant to consider environmental issues facing the city, specifically the collection and management of waste.
Installation, Display, Exhibit & Set Design

Mana ngurang (gathering place) is site specific 3D installation located in the Aboriginal Elders Lounge at the Redfern Community Centre (RCC) Sydney representing the first public installation of Gadigal art on Gadigal land, the project was developed in collaboration with an Aboriginal designer, an Architect and Gadigal Elder and showcases Aboriginal ethos of sustainability, interconnectedness and diversity.
Installation, Display, Exhibit & Set Design

Bar of Thor's mission statement was to design, build and create highly portable mobile bar units/ service areas with a unique visual effect which surrounds a rustic theme.
Installation, Display, Exhibit & Set Design

Director and Founder of The Greenwall Company, Mark Paul has extensive plant knowledge and planting design, which stem from a childhood/lifelong passion for lithophytic and epiphytic plants, and their habitats. Originally training as a Marine Biologist and working for the CSIRO, Mark worked intimately with their habitats, enabling him to successfully design and create a system that was not only energy efficient but also long lasting. Due to Mark's designs, The Greenwall Company can pride themselves on building their walls from 94 per cent of recyclable materials that would otherwise be destined for Australian landfill, taking the benefit of their greenwalls and green roofs beyond just their aesthetic appeal. Mark was commissioned by a private owner, to help create the greenwall billboard located in the heart of Sydney's Green Square precinct. This further cements Mark's objective of reclaiming the built environment by greening as many areas as he possibly can with the end goal being a 'green city'.
Installation, Display, Exhibit & Set Design

Gumtree Garden pop-up bar took place over 4 nights during November 2013. This very special pop-up was built in less than 48 hours, featuring items sourced on Gumtree in the local Sydney area. Situated in the heart of The Rocks, on Sydney's oldest cobblestoned lane-way, the pop-up served fine Australian beer and wine and a delicious menu created from the local ingredients. We created 5 different "sets" inspired by some of key styles available on Gumtree: Palm Springs, Mid Century, Country Kitchen (the bar), Victorian, late 70's / early 80's, and of course the outdoor laneway. We sourced a whole bunch of weird and wonderful things – everything you might expect to find in a bar, and some things you might not! We brought the garden concept to life using some less conventional elements, and really pushing the idea of the "garden" by embracing a fun and playful approach – from the arresting entry wall covered in ivy, to bar-staff head pieces and button holes, and everything else in between. We wanted the idea of the Garden to feel naturally embedded within the space, without resorting to the more obvious references.
2014 Presentation
Photo Gallery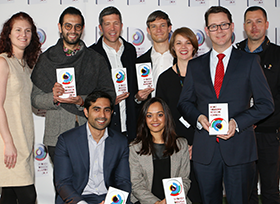 Don't forget to tag yourself, friends and colleges in the photos.
Best Of Categories
All entries submitted are automatically eligible for the relevant "Best of" category.