Graphic Design - Publication
This award celebrates creative and innovative design in the traditional or digital visual representation of ideas and messages. Consideration given to clarity of communication and the matching of information style to audience.
Nominations in Category
Graphic Design - Publication

Sekisui House are a specialist residential property builder and developer. They have over 50 years experience in Japan and have built over 2 million homes and residential properties worldwide. Sekisui House have been in the Australian market for four years, currently employ over 200 people nationally, and during this time has invested over $1.5 billion with many more projects planned for the next 20 years. In 2013 Principals were engaged to undertake a brand refresh project, establishing a stronger, more competitive positioning for Sekisui House in the Australian market.
Graphic Design - Publication
Elton John has a copy and OPRAH claimed to want to "lick every page" of Butterflies and All Things Sweet: The Story of Ms B's Cakes. This is Ikon's Kate Dennis was creative director on this high profile coffee table book by Bonnae Gokson, a Hong Kong-based, world-renowned lifestyle guru, entrepreneur and restaurateur. The book was launched in September, 2013 at JOYCE Hong Kong, Shanghai and Beijing, followed by Manila and the Philippines. The New York launch in October 2013 was hosted by Ralph Lauren at his Madison Avenue store. Butterflies and All Things Sweet recently won in the Photography/Art category at the Paris Book Festival 2014.
Graphic Design - Publication

A quick glance across any trade library reveals bland and uninspired catalogues and manuals, in an industry where little thought/budget is given to graphic design of publications. Lincoln Sentry is determined to lead the change in creating a bold design statement to showcase its range of hardware products.
Graphic Design - Publication

2013 was a pivotal year for Oil Search, as it was on the brink of successfully delivering the PNGLNG project, transforming the company into a significant LNG producer, and a new era of growth. Our goal was to capture this transformation through a vibrant, culturally-sensitive and innovative design theme and execution so all stakeholders engaged with and understood this transition. With the thematic of transformation identified, we explored the concept of the lifecycle of a butterfly, as we felt this directly linked to the transformation/lifecycle of Oil Search. We carried out research and discovered the Queen Alexander Butterfly; the largest butterfly in the world was also from PNG. The cover of the Annual Report features a glimpse of the butterfly, conveyed through the 'Micromotion' print embellishment technique, a screen-printed finish, when changing the angle of the cover, allows light to be reflected and creates the illusion of motion, reinforcing the theme of transformation. Further enhanced through selecting a 'Matt Touch' finish. This visually eye-catching effect offers lustrous patterns, which are mesmerising and tactile. We applied this approach to the 2013 suite of reports using different colours and images for each report.
Graphic Design - Publication

An overview of the upcoming programs and events offered by AYO for 2015, as well as details and conditions for applications. Program is presented as part inspirational sales tool, part informative document.
Graphic Design - Publication
LSC wanted to create excitement about the ever changing nature of the security products that protect people and their possessions. The new LSC Product Catalogue follows our tradition of packing the publication with pictures, technical data, usage tips, charts and all the information our specialist industry needs. After 88 years in business LSC knows plenty about security and locking products. Our team of in house experts shared their knowledge openly to benefit our customers businesses, and our range, expertise, service and advice is like no other. As a world class distributor we are fortunate to have a long and successful history, since 1926 we have brought the best products and the best brands to the security supply industry. This catalogue showcases these brands and their products to our customers Australasia-wide.
Graphic Design - Publication
The business of design details the what, why and how of running an Australian design business. Written entirely from a local perspective, this is the only Australian book to span all the business skills needed to start, manage and grow a design studio.
2014 Presentation
Photo Gallery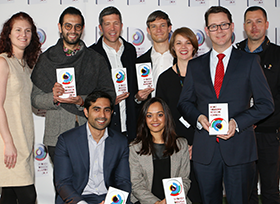 Don't forget to tag yourself, friends and colleges in the photos.
Best Of Categories
All entries submitted are automatically eligible for the relevant "Best of" category.