Graphic Design - Illustration and Type
This award celebrates creativity and innovation in the traditional or digital visual representation of ideas and messages. Consideration given to clarity of communication and the matching information style to audience.
Nominations in Category
Graphic Design - Illustration and Type
Frost* collaborated with the City of Sydney to create a graphic poster campaign featuring a bicycle-themed, hand-drawn font, to encourage bike riders to ride safely when using the City's roads and new network of cycleways.
Graphic Design - Illustration and Type

Drawn as catching black and white illustrations that are applied to teatowels, calendars, greeting cards, stationery, lens cloths and much more Cecily comes into our homes as a nonthreatening friend who helps us laugh at our daily challenges.
Graphic Design - Illustration and Type

Pack of Heroes is a Superhero Card Game that I undertook the illustration and graphic design duties for. It was self published and produced via an incredibly successful crowd funding campaign. An independent game publisher approached me in the early stages of the game's development, to complete all of the Illustration, graphic design and finished artwork for this project. The project Included; the creation, development and illustration of 40 unique character and 12 weapon cards, designing the Pack of Heroes logo, designing the card and game play graphics, Illustrating and designing the games packaging, Illustrating and designing the included comic book, rules booklet and hero almanac, as well as managing the print production.
Graphic Design - Illustration and Type

For our 2013 Christmas card/gift, we designed and delivered over 300 individual monograms for every one of our clients and associates. Every personalised monogram was delivered to its new owner in two ways: 1) as a printed Greetings Card and; 2) as social media-ready files to download online. A matching personalised URL provided within the card took the recipient online to a responsive microsite, where their digital monogram awaited them, to download and use as their own.
2014 Presentation
Photo Gallery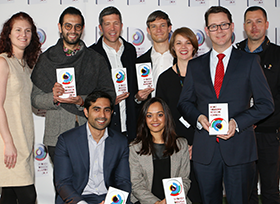 Don't forget to tag yourself, friends and colleges in the photos.
Best Of Categories
All entries submitted are automatically eligible for the relevant "Best of" category.