Event Experience - Consumer
This award celebrates creative and innovative design for a consumer event. Consideration given to originality, creativity, theming, audience connection and engagement and how the event created a seamless experience for the visitor and helped to reinforce the program's core message
Nominations in Category
Event Experience - Consumer
This work is an 2.4 meter hand made signage for the Semi-Permanent conference, celebrating the new Semi-Permanent brand. Our aim is to effectively create a memorable and meaningful experience by using this display as a design intervention - a piece that is environmentally responsible and will inspire a crowd of creatives to engage with the new SP logo.
2014 Presentation
Photo Gallery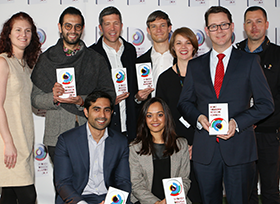 Don't forget to tag yourself, friends and colleges in the photos.
Best Of Categories
All entries submitted are automatically eligible for the relevant "Best of" category.