Digital Experience - Website
This award celebrates innovation and creativity in design of a unique user experience in the combination of text, audio, still images, animation, video, and interactivity content for websites. Consideration given to clarity of communication and the matching information style to audience.
Nominations in Category
Digital Experience - Website
The YMCA NSW (the Y) is a not-for-profit charity that operates in more than 40 communities across NSW. Through the core divisions of Recreation, Camping and Children's Services, the Y offers a range of programs that focus on bringing families together, healthy living, developing young people and helping those less fortunate. The new responsive YMCA website was launched in December 2013 after a four month project period, with a focus on encompassing the core divisions. Key features of this project include: - A full overhaul of the existing information architecture and primary navigation via a comprehensive planning process - Brand new site design with up to 20 templates for three different breakpoints (desktop, tablet and mobile – 60 templates total) - A new, fully-responsive website designed to work across desktop, tablet and mobile - Up to 40+ individual centre microsites within the main YMCA site where the look and feel can be customised with centre colours all managed within the same back-end. - Supports publishing of commonly shared information between microsites - Integrated location services to help users effortlessly find their perfect centre - Tailored centre directory that supports scalability.
Digital Experience - Website

Westpac's new Online Banking service gives customers more control of their finances through a consistent, simple, helpful and secure omnichannel experience underpinned by; • 105 backend systems • 65 real-time services • 178 batch interfaces • Over 70,000 test cases • 1,500+ customer and business requirements Four years of good design practice management within a massive transformational program makes the complex appear simple. Our design goal; help customers to develop positive financial habits through small behavioural changes 'in the moment'. The result; a meaningful, personalised picture of finances – including non-Westpac accounts presented through a simple, modern interface across multiple channels.
Digital Experience - Website

UNE came to Squiz with the intention to position itself as Australia's most recognised quality provider of distance education, a need for a refresh of their Digital brand and desire to increase online student applications and enrollments.
Digital Experience - Website

Ultimately, our task was to help Barnardos Australia stop child abuse.
Digital Experience - Website

ING DIRECT puts customer experience at the centre by developing a responsive banking website that strives to eliminate customer pain points, improves a customer's self-service capability, employs best practice online retailing while adding a little fun along the way. Our previous website was cluttered, busy, confusing and didn't allow customers to achieve desired goals in an easy and enjoyable way. This was not aligned to our Brand. Being a direct bank, our website is our front door for potential and existing customers so it's crucial for us to deliver a differentiated digital experience. We built the new website from scratch, involving our customers from the outset, understanding motivations and needs before going through an in-depth iterative design and build phase.
Digital Experience - Website
Bringing the story of Sydney's water supply alive was the overall goal for the project. The former SCA website was arid. Our early research highlighted information was hard to find, users were frustrated and lost in a website architecture which served up an internal organisational perspective. The new site needed to connect with the broad interests of Sydney residents and answer the very specific needs of our key users. The new architecture aims to connect our time-poor stakeholders quickly with what they need. We also wanted to tempt users to explore a little more, sharing with them the fascinating world of water (we already knew they were thirsty for knowledge…each time Warragamba Dam spills after rain, we can have up to 75,000 web visitors a day). Data became the centrepiece – interactive and visual – answering answer information needs. This new website takes a user-centred approach to deliver the results we were looking for: to focus on our users and community and their online tasks and goals; create immersive experiences; open up access to our data; offer better quality information and improved online services to address the needs of each audience group.
2014 Presentation
Photo Gallery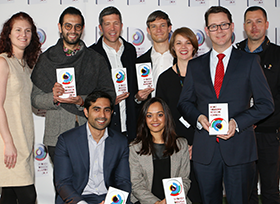 Don't forget to tag yourself, friends and colleges in the photos.
Best Of Categories
All entries submitted are automatically eligible for the relevant "Best of" category.