Digital Experience - Mobile
This award celebrates innovation and creativity in design of a unique user experience in the combination of text, audio, still images, animation, video, and interactive content for mobile. Consideration given to clarity of communication and the matching information style to audience.
Nominations in Category
Digital Experience - Mobile
The Yates My Garden Mobile app is perhaps the world's most comprehensive interactive guide to gardening right in your pocket. The multi platform app provides gardening pros and enthusiasts with everything they need to design, grow and manage their perfect garden, featuring an Augmented Reality Garden Visualiser with a wide selection of virtual plants. The app steps the user through each stage of the garden life cycle; finding inspiration, designing, planning, planting, growing, managing and solving pesky problems that stop the garden from thriving. The app is available to use across iPhone, iPad and Android; it is also fully integrated with Social Media, Yates website and their popular Garden Club community.
Digital Experience - Mobile

Westpac's Pay Pig App for iPhone and iPod touch is the fun, educational, family-friendly app that helps kids learn the value of saving. It is easy-to-use educational app for the whole family where kids learn about savings and working towards a long-term goal. Parents simply set up chores, a time frame, reward amount and pay day for each chore/task undertaken. In turn, kids set up their goals for the things they want to save for, take responsibility for getting chores done, like washing the car or walking the dog, to save money for their long-term goals. Once the chores are completed, kids tick them off and the parents receive a notification. At the end of the week that has been set to pay the child, it's Pay Day and the child is one step closer to reaching his/her savings goal.
2014 Presentation
Photo Gallery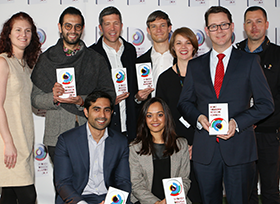 Don't forget to tag yourself, friends and colleges in the photos.
Best Of Categories
All entries submitted are automatically eligible for the relevant "Best of" category.