Architecture - Residential - Constructed
This award celebrates the design process and product of planning, designing and constructing form, space and ambience that reflect functional, technical, social, and aesthetic considerations. Consideration given for material selection, technology, light and shadow.
Nominations in Category
Architecture - Residential - Constructed
This refurbishment consists of refurbishment of two existing building located amongst the activated laneways, cafes, restaurants and bars in the heart of Neutral Bay. The apartments offer one and two bedroomed homes that include a private barbecue. designed with the residents comfort and lifestyle in mind. The design rationalises the existing planning and removes the extraneous elements from the site. We've created an enhanced interface by layering a faced that communicates more clearly from the external and internal transition. There has been a creation of a central court yard that opens up the possibility for social connections and interaction improving the lifestyle not previously achieved between these buildings
Architecture - Residential - Constructed

Dominion is a thoughtfully articulated multi-residential development in the heart of Sydney's Darlinghurst. It features two heritage and three new buildings with a total of 109 one-, two- and three-bedroom apartments. Its resounding expression is the integration of its heritage narrative into both the architectural and landscape fabrics. Salvaged timber from heritage-listed Caritas House was used as wall features in the lobbies of the new buildings as a nod to the site's history. While an assemblage of found architectural elements were installed as part of the grand heritage garden. These integrations serve to connect old and new and give Dominion a strong sense of place, while respecting its history. A new sandstone podium acts to visually ground the three new buildings, which appear as one form in an L shape. The podium sits atop an existing heritage sandstone wall and again the connection between old and new is evident. A recessive storey above the podium adds an element of visual intrigue and makes the top four-storey mass appear to float. This mass is made up of three gridded boxes with louvres that contrast with the pale sandstone. Their stark form adds an element of visual drama, while the grids and louvres provide effective sun shading. Environmental factors are further considered in the generous balcony design, which aids in the cross ventilation and shading of the apartments.
Architecture - Residential - Constructed

A new family home located on Sydney's leafy North Shore, nestles into a sloping north-facing site with a dramatic garden aspect onto a natural bushland reserve. Three large Scribbly Gums dominate the site - generating the design strategy by way of site layout, structural expression and colour palette.
Architecture - Residential - Constructed

Inspired by high fashion from the catwalks of New York, Paris and Milan, Platinum's sophisticated interiors exude glamour. With diamond gloss finishes, Miele appliances and frames of LED lights, the polished interior schemes are nothing short of breathtaking. Deserving of its namesake Platinum, these apartments define contemporary urban living and offer the most exquisite residences - unrivalled in Victoria Park.
2014 Presentation
Photo Gallery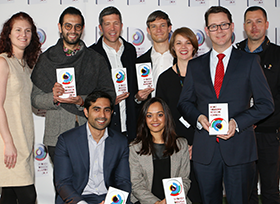 Don't forget to tag yourself, friends and colleges in the photos.
Best Of Categories
All entries submitted are automatically eligible for the relevant "Best of" category.