Architecture - Proposed
This award celebrates the design process and product of planning, designing and constructing form, space and ambience that reflect functional, technical, social, and aesthetic considerations. Consideration given for material selection, technology, light and shadow. The project can be a concept, tender or personal project, i.e. proposed space.
Nominations in Category
Architecture - Proposed

Providing an iconic 'front door' to the suburb of Wentworth Point and the Olympic Park precinct, the development consists of a mix of uses including retail, anchored by a specialist supermarket, supported by fresh food and beverage, service retail, childcare, community rooms and residential, organised around a major public spine which links the existing ferry terminal to the rest of the suburb.
Architecture - Proposed

Scheduled to begin in late 2014 Royal Shores (with a site area of 20,382sqm including 612 apartments) is a residential development consisting of nine separate buildings, in the suburb of Ermington. The buildings are permeable and connected to the foreshore reserve and adjacent parklands and create a dramatic gateway and transition from the detached dwelling allotments to the north to Parramatta River to the south.
Architecture - Proposed
Gunyama Residence forms part of the Green Square urban fabric, with a landmark ten storey building to the North, immediately adjacent the sports park and two smaller buildings to the East. The buildings are joined by skybridges and opened up at ground floor to create dynamic urban hub where residents and visitors add to the diversity and vibe of the area, sustainably all year round. The architectural language for all three buildings is deduced by the aboriginal word "Gunyama", meaning wind. We were inspired by the effect wind has and the patterns it creates as it passes around an object. The horizontal curvilinear balcony spandrels and fenestration have a sculptural dynamism, reminiscent of the rippling sands or wind moving through reeds. The free, flowing nature of this form offers dynamic modelling of the façade and a substantial degree of sun shading to fenestration. Roof spaces have also been considered and designed as linking gardens with terraces, so that residents can not only enjoy intimate spaces but they're aesthetically pleasing when viewed from above. In the lower buildings residential lobbies, you will be surrounded by naturally sunlit and ventilated communal open spaces.
Architecture - Proposed
Out of 35 firms in an open tender across NSW, we were selected by North Sydney Council to design a public car park and Woolworth's façade in Crows Nest. The redesign of Woolworth's in Crows Nest was needed to improve the overall aesthetics of the current building in such a prominent setting. We were also required to fit within the current building context while successfully responding to the increasing demand for community car parking. Our vision was to design a façade that does more than a static screen. We believed it should be not just a beautiful object but serve a wider purpose and have a symbolic meaning that makes reference to the location. Travelling up Falcon Street towards Crows Nest the streets are dotted with small colourful buildings. We photographed these houses, then pixelated them in Photoshop. It was from this that we extracted our palette and applied them to our vertical screen louvers. The façade is an expression of the local heritage fabric expressed in to a striking and appealing design. Designed to feel like a nest made of ribbons, wrapping around the building it is a symbol for vibrant new life
Architecture - Proposed

Avantra iCommunity is a premium residential development which blends an iconic industrial past with contemporary city living, offering tranquil living spaces in what is now identified as Sydney's most lively community and vibrant culture. With Ground breaking initiatives in the way residential towers are designed for the future, featuring the distinctive 'Streets in the Sky' exclusively designed for Avantra iCommunity. Our aim is to inspire people to surround themselves with a beautiful and innovative home that will enhance their lifestyle. Within the building we have socialising and entertaining areas. Two rooftop retreats' with a series of private spaces. A spectacular rooftop pool, gym, barbecue areas and garden with impressive views. A generously oversized sized tranquil middle garden at ground level between the two towers, designed to create harmony between the built and organic environments. The interiors present a stylish and urban contemporary outlook offering lifestyle and privacy. By cleverly balancing interior space with external aspects, we have created a resort style ambiance with a uniquely urban aesthetic. Avantra iCommunity apartments have been designed to be fitted with Home Automation that is accessed via the apartment's iPad and a smart electronic concierge service called myiButler to deliver the 'Ultimate Longton Lifestyle'.
Architecture - Proposed

THE ACCOMMODATION POD is a new concept for high end accommodation retreats. Designed for both urban and remote areas, the ACCOMMODATION PODS are designed with integrated water storage tanks and PV panels to be energy efficient and self-sufficient.
2014 Presentation
Photo Gallery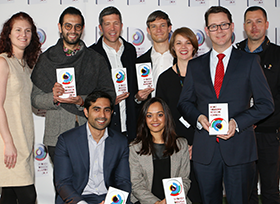 Don't forget to tag yourself, friends and colleges in the photos.
Best Of Categories
All entries submitted are automatically eligible for the relevant "Best of" category.