Architecture - Mixed Use - Constructed
This award celebrates the design process and product of planning, designing and constructing form, space and ambience that reflect functional, technical, social, and aesthetic considerations. Consideration given for material selection, technology, light and shadow.
Nominations in Category
Architecture - Mixed Use - Constructed

T1 is an experimentation of a new dynamic sculptural form, taking the concept from a ribbon. This dynamic appearance lifts the building fabric and extracts textural elements from the surrounding area to capture the qualities of light, shadow, repetition and movement This mixed use tower was created to enhance the current spirit of St Leonards as a bustling, flexible and progressive community, the new design continues to encapsulate that feeling in its urban context.
Architecture - Mixed Use - Constructed
This meticulously planned project is the culmination of the visions of a carefully selected team. We travelled the globe gaining inspiration from the world's most vibrant and exciting urban developments and locations to bring this adventurous project to life.
2014 Presentation
Photo Gallery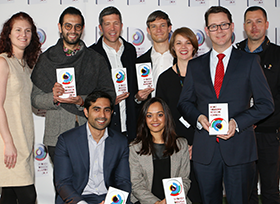 Don't forget to tag yourself, friends and colleges in the photos.
Best Of Categories
All entries submitted are automatically eligible for the relevant "Best of" category.