Architecture - Commercial - Constructed
This award celebrates the design process and product of planning, designing and constructing form, space and ambience that reflect functional, technical, social, and aesthetic considerations. Consideration given for material selection, technology, light and shadow.
Nominations in Category
Architecture - Commercial - Constructed
8 Chifley Square is a speculative commercial office development which arose out of a City of Sydney Design Excellence Competition for a premium grade tower on a significant and highly visible site in the financial district of Sydney's central business district. The design of the new tower came about as a result of collaboration between architects Lippmann Partnership and Rogers Stirk Harbour + Partners with the engineering disciplines carried out by ARUP. A major public artwork was created by American artist Jenny Holzer. In satisfying the project's commercial objectives, the development makes a unique contribution to contemporary commercial workplace culture and a significant innovation to Sydney's public realm. The development also achieves the highest contemporary standards of environmental sustainability with the potential to further enhance its performance in the future.
Architecture - Commercial - Constructed

The ANZ tower is a forty-four storey commercial tower located in the heart of Sydney CBD. The premium grade tower has dual frontages to 161 Castlereagh Street and 242 Pitt Street and is one of the five sites that form Liberty Place. At the base of ANZ tower, a 16m high glazed foyer volume announces the entry to the commercial tower.  The tower is completed by an iconic roof feature which is conceived as an element to capture and break light at the top of the tower.  The roof feature frames the key north-eastern elevation.  The intent is to provide a dramatic addition and ever changing expression to the city skyline. The foyer is enclosed by suspended walls of translucent glass fixed from an innovative system of high tension stainless steel cables and custom patch fittings. The translucent glass walls continue inside creating a significant and dramatic interior space. The internal glass walls are rear illuminated, using an advanced system of led backlighting. A suspended white ceiling appears to float within the space and completes the architectural expression of the enclosing box. Within this enclosure a combination of rectilinear and sculptural elements define and organise the space
2014 Presentation
Photo Gallery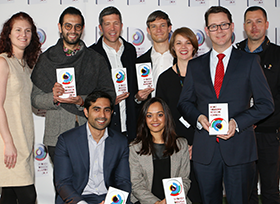 Don't forget to tag yourself, friends and colleges in the photos.
Best Of Categories
All entries submitted are automatically eligible for the relevant "Best of" category.