Advertising - Outdoor, Retail, POS
This award celebrates creative and innovative design for visual communication including traditional and digital signage intended to persuade an audience to purchase or take some action upon products, ideas or services. Consideration given to the technical, conceptual and aesthetic elements, audience engagement and message delivery.
Nominations in Category
Advertising - Outdoor, Retail, POS

A simple Straw Dispenser that uses only 4 parts, displays 3 bottles and releases straws quickly and simply.
Advertising - Outdoor, Retail, POS
Frost* covered Sydney in condoms, with a campaign created for the AIDS Council of NSW (ACON). The Stay Safe campaign was one of three components of Ending HIV (which also includes Test More and Treat Early to be deployed early 2014) and was aimed to create a dialogue with gay men that would reinforce condom use as a key factor for ending the HIV epidemic.
2014 Presentation
Photo Gallery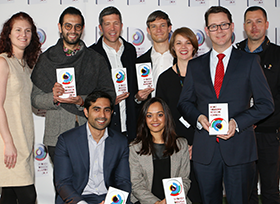 Don't forget to tag yourself, friends and colleges in the photos.
Best Of Categories
All entries submitted are automatically eligible for the relevant "Best of" category.