Awards Entries
Advertising - Outdoor, Retail, POS

It's easy to think that all home loans, or even all banks, are all the same. NAB continually work to stand out and demonstrate that they are not like the other banks. The spring mortgages campaign is a specific retail campaign developed for NAB, with the aim of positioning NAB as the experts in home loans. The campaign idea, developed by Clemenger BBDO, tapped into the insight that everyone has an opinion on the best home loan, but only an expert can recommend the right home loan for an individual's needs. We were asked to execute this idea across the retail network using NAB's flexible identity system.
Advertising - Outdoor, Retail, POS
A simple Straw Dispenser that uses only 4 parts, displays 3 bottles and releases straws quickly and simply.
Advertising - Print

Paragon, a residential community by award winning developer Pask Group, needed a boost in enquiry and sales levels.
Advertising - Print
After lying dormant for the last 15 years, one of the last parcels of land in Melbourne's west was about to be developed by Dennis Family Developments.
Architecture - Commercial - Constructed

A 220m2 office building for Melbourne Water staff located within the dense woodland surrounds of the Silvan water reservoir. In order to minimise the transition time from old office to new, the project was from the outset designed as a series of factory built modules that were transported to site and craned onto a steel foundation systems in one day. Unique site location, tight turn-around frames, bushfire regulations, environmental awareness, and the negotiation of building transportation and lifting became the parameters for a perfect opportunity to showcase the possibilities and high quality outcomes that Pre-fabricated design and construction can generate.
Architecture - Mixed Use - Constructed

Phoenix Valley in Wujin is a public Theatre, Film and Arts Centre. Run as an international design competition in 2009 and completed in 2013, studio505 diverged from the brief by preserving and diverting an existing canal deep into the site allowing water to become an active element that has seemingly 'carved' out the valley from within a green roofed mountain mass. This single gesture gave the project its name, creating an internalised yet outdoor courtyard space sheltered from roads, facilitating a children's playground, an amphitheatre and access to all the parts of the centre from within the central valley. The project is a catalyst for improved China/ Victoria relationships with various Premiers, and official delegations visiting the site, engendering exchange in ongoing cultural events, partnerships and operational relationships. Winning numerous local architecture and construction prizes the project has formed a means of cultural exchange with Melbourne through ongoing knowledge sharing. Currently there are discussions to form sister precincts between Melbourne's Federation Square and Phoenix Valley to better serve this cultural exchange with our Sister State. The project has improved amenity, improved local value of real estates and formed a highly regarded and awarded hub for the local community.
Architecture - Proposed

On 30th June 2014, Planning Minister Matthew Guy MP announced that he had granted the permits necessary for the construction of Stage 1 of the East West Link project, which will connect the Eastern Freeway to CityLink with a further connection to the ports. With the community of West Parkville set to suffer some of the worst impacts of this project, the community group Safety Net took it upon themselves to develop an alternative which could facilitate the State's requirements whilst also treading lightly on the local environment. Atelier Red + Black provided pro-bono design services to resolve the issues around the urban design and shape the project to be as sensitive to the the surrounding context as possible. The outcome is a solution which minimizes the environmental damage to Royal Park and would save 55 homes from destruction. Careful attention has been given to integrate the new infrastructure with the iconic Melbourne Gateway.
Architecture - Residential - Constructed

A House for Hermes is the outcome of a collaboration between the architect and a client working as an artist and landscape architect. Sited on the northwest edge of Philip Island, the project involved the conversion of a heritage-listed chicory kiln into a couple's residence. The design was conceived as part of an ongoing exploration of what might constitute "home" or "place" in a world where prevailing conditions are of speed, dynamism and change. This conceptual framing extended from an earlier art installation undertaken by the client that was exhibited at Tarrawarra Museum of Art in 2007.
Architecture - Residential - Constructed
This project demonstrates that compact inner-city living and functional family homes need not be mutually exclusive. The clients' small space and modest budget have been maximised by efficient spatial planning and a creative composition of commonly available materials.
Architecture - Residential - Constructed

'The Quays' is a mixed-use and apartment development by MAB Corporation in the NewQuay precinct of Melbourne's Docklands. Its sinuous form offers a sensual counterpoint to the series of sentinel towers that currently line the waters' edge. Located on a prominent intersection, 'The Quays' provides a major new frontage and potentially new perception of the Docklands. In addition to punctuating this significant corner with a new local landmark, the towers provide a figurehead to the series of existing towers. 'Choice' something rare when it comes to apartments. 'The Quays' offers choice abundant; choice in apartment design, choice in the colour of the apartments, and choice in the kind of space that people can occupy and share together, outside of their apartments. Ultimately, the design aims to re-establish a sense of community through the creation of a permeable ground plane, providing spaces that would actually be used and fulfil a need, whilst adding complexity and diversity to the Docklands. 'The Quays' seeks to introduce 'cultural intelligence' through collaborations with artists of all kinds. It is a building that is inclusive of people in all their wonderful variety; a building that is a bit of fun.
Architecture - Residential - Constructed
Set within an established heritage precinct in Middle Park and on a very prominent corner site, the brief to turn a heritage shop into a five bedroom house and create an eye catching form was a tantalizing prospect.
Digital Experience - Mobile
Coles Mobile Wallet is a holistic solution that offers Coles Credit Cards customers a convenient and secure way to access internet banking and account management on their smartphones. It also allows customers to pay for transactions and collect flybuys points using their mobile, without ever needing to take out their wallet. This new product positions Coles as an innovative leader in financial services technology, being the first app to combine rewards with mobile payment.
Digital Experience - Mobile

The Yates My Garden Mobile app is perhaps the world's most comprehensive interactive guide to gardening right in your pocket. The multi platform app provides gardening pros and enthusiasts with everything they need to design, grow and manage their perfect garden, featuring an Augmented Reality Garden Visualiser with a wide selection of virtual plants. The app steps the user through each stage of the garden life cycle; finding inspiration, designing, planning, planting, growing, managing and solving pesky problems that stop the garden from thriving. The app is available to use across iPhone, iPad and Android; it is also fully integrated with Social Media, Yates website and their popular Garden Club community.
Digital Experience - Mobile
Melbourne Now, is the largest and most ambitious exhibition in the National Gallery of Victoria's history. We were asked to expand the boundaries of the exhibition digitally, encourage a much broader reach and engage art enthusiasts in a whole new way.
Digital Experience - Website
Clipsal had an ambitious goal - to have a globally market-leading, responsive website that allowed for effective segmentation of multiple disparate audiences, and provided deep functionality and integration using an online marketing and lead scoring platform. The Get Started design allows easy content updates, providing cost reductions and budget efficiencies for Schneider Electric. The new clipsal.com has seen significant traffic increases from all target markets, especially from home owners. The focused, retail based content and inspirational imagery and design makes Clipsal the place to go for home-owners building and renovating.
Digital Experience - Website

This project needed to align DUSA's online brand with their current branding that appears in print, on campus, and in all other general communications. The website concept and structure was designed to in time extend in functionality, covering areas such as bookshop, further events, volunteers and memberships.
Digital Experience - Website
As a creative agency, first impressions are everything. Especially online. While our current website was working well, we wanted to push the boundaries further, particularly around user functionality and content variety. Our new website had to reflect what sits at our heart – a more human-centred approach to creativity. In fact it had to live and breathe it. And most importantly, it had to drive people to want to know more about TANK, not just about our work and services, but what we think and stand for. With massive spikes in every measurement since its launch, our new website has more than matched our lofty expectations.
Digital Experience - Website
The Youth Disability Advocacy Service (YDAS) had a vision to create a hub for young people with disabilities which would enable them to access up-to-date information about their rights and to provide overall support. YDAS partnered with Reading Room to deliver the Youth Disability Rights Hub (YDRH) website; which contains clear and intuitive navigation, content, a social media presence, and most importantly, a way for their users to contact the agency. Reading Room provided a range of services from web design through to development, and made sure to focus primarily on improving user experience.
Digital Experience - Website
Did you know that we probably drink the same water as the dinosaurs drank? South East Water approached us to turn their approach to helping primary school teachers educate kids about water on it's head. We had to make it fun, engaging and educational. Including parallax animation to discover water cycles, games and easy access for teachers to lesson plans and information - it was an education in itself just working on this site.
Event Experience

Sustainability Victoria's ResourceSmart School Awards recognises the achievements of Victorian primary and secondary schools in sustainability. It has become a prestigious Awards program that highlights and encourages resource efficiency in Victorian Schools. The Awards event included both a student led forum and a formal awards ceremony. An important element for the event was the theme that relayed a key message and a provided a platform for the graphic design that was fun, vibrant and appropriate for the audience. The theme was 'Ideas + Action = Change' which was a play on a maths equation and a winning formula. The use of the plus & equals symbols was easy to re-call, results driven and communicated that we can all contribute for the right outcome.
Film, Video, Viral

The Victorian Government's Working Group of 'Supporting Patients to be Smokefree', led by Alfred Health, approached Immediacy for a creative solution to help health professionals to overcome their concerns about starting the conversation with their patients about smoking. The point of the short film was to demonstrate that many patients really want to have that conversation and have the support of their clinician. The film challenges the commonly held misperception of clinicians through real life stories. That is where the power of the film lies in changing behaviour. Also, the irony is that the film asks clinicians to change their behaviours – not the smoking patient – in effect, reversing the traditional roles. The key communication was further expanded to include other platforms designed by the Immediacy team such as a web microsite, web banners, screen saver, a display banner and postcards.
Film, Video, Viral
As a creative digital agency, Chromatix set out to do something different for Christmas in 2013. How could we challenge everyone and anyone to give in the spirit of Christmas?
Film, Video, Viral
The Empty Spot video was created as promotional material in conjunction with the Empty Spot website that we have been developing over the past year. Empty Spot is an online childcare booking system, the first of its kind in Australia. It allows childcare centres to advertise their 'empty spots', and parents to find a childcare centre with suitable availability. The vision for Empty Spot is to revolutionise the childcare industry by providing ease of access for both centres and parents. We required a relevant method of promoting the Empty Spot brand and website (launching in October 2014), as well as to inform the viewer of the functionality and purpose of Empty Spot. Utilising research data together with Empty Spot, we decided that an animated short video would be the best option to deliver the message in a fun, concise and creative way.
Graphic Design - Corporate Identity and Branding
Pepper Design creates beautiful kitchens and living spaces customised to the individual. Collaborating with their clients and bringing them the very best of European products, appliances and furniture, Pepper Design's integrated approach ensures the result is completely tailored to the end user. Aer Design was engaged to create a brand and digital strategy which reflects Pepper Design's attention to detail and client focussed attitude.
Graphic Design - Corporate Identity and Branding

Essentially NAB's Asset Management arm had being operating under its own set of identity rules, detached from the NAB family visually and working in isolation to the parent brand. The task for the rebrand was to inject a sense of 'NABness' into the brand, making the link to the parent brand obvious, while also extending the brand to engage with a more complex audience and allow it to have its own unique sense of identity.
Graphic Design - Corporate Identity and Branding
Since its inception, NAB's learning center, The Academy, has been built around creating transformational journeys for its staff. While they enjoyed a successful rebrand in 2009, NAB felt it was time for The Academy itself to go through its own transformational journey, refreshing the brand to further enhance its standing within the broader NAB business. With this in mind a new visual language was developed for 2014, keeping the brand up to date, with a new illustrative style and guidelines for all brand communications it created.
Graphic Design - Corporate Identity and Branding
A startup online muesli company named Yousli was in need of a full brand development to bring their brand to life.
Graphic Design - Corporate Identity and Branding
Jardan. Made for life. Good design is the lifeblood of Jardan. A family-owned furniture business based in Melbourne since 1987 that easily competes with the world's best designer brands. Already huge Jardan fans, we were delighted when they called on Seesaw for a complete rebrand and strategic repositioning. Every Jardan piece is designed and crafted to order in Melbourne, with care and precision, by hand. Investing in good design is an investment in a lifestyle, repaid to the owner through a lifetime of fulfillment. This is made possible by Jardan's commitment to quality materials and craftsmanship.
Graphic Design - Environmental
Bupa Optical appointed Huntr Group and Retail Safari to help increase store traffic by bringing to life their promotional campaigns with creative, impactful and eye-catching window displays and rolling them out across their network of stores Australia-wide.
Graphic Design - Environmental

Metropolitan Fire Brigade in conjunction with Melbourne Parks Victoria, developed a new purpose built, contemporary 'Centre of Excellence' for training and development of its operational workforce at 284 - 290 Hume Highway in Craigieburn.
Graphic Design - Environmental
Yo-Art makes delicious frozen yoghurt with multiple stores across Melbourne. We created a cute icy look for the store with a wall graphics featuring two very chilled polar bears. The clean lines of the graphics were carried across to the yoghurt tubs and napkins and matched with clean text in an instructional signage for the store's self-serve area.
Graphic Design - Illustration and Type
Empty Spot is an online childcare booking system - the first of its kind in Australia - allowing parents to find and book any 'empty spot' quickly and easily. Character illustrations were required, to support Empty Spot's branding and communications. These illustrations were to be employed across a range of mediums - both online and offline.
Graphic Design - Illustration and Type

SmartATMs are designed to make banking quicker and easier. The SmartATM illustration suite tapped into this idea with a range of ATM characters that demonstrated the different transactions that can be done with a SmartATM, in a cheeky and engaging manner.
Graphic Design - Illustration and Type
As part of a Mitchell Shire Council initiative to encourage residents to shop locally, Sidedoor was briefed to develop a communications campaign aimed at children, to get the message into the community. The concept was to be introduced to children during a class program, with the key components being a launch video and children's activity. There were many stakeholders including council, primary schools/teachers, children, retailers and the wider community.
Graphic Design - Illustration and Type
Christmas is a time of giving, and giving gifts means wrapping paper. Our festive gift to clients and contacts aimed to be both beautiful and useful: a unique piece that displayed our creative skills, and which had a practical use for the recipient.
Graphic Design - Publication
LSC wanted to create excitement about the ever changing nature of the security products that protect people and their possessions. The new LSC Product Catalogue follows our tradition of packing the publication with pictures, technical data, usage tips, charts and all the information our specialist industry needs. After 88 years in business LSC knows plenty about security and locking products. Our team of in house experts shared their knowledge openly to benefit our customers businesses, and our range, expertise, service and advice is like no other. As a world class distributor we are fortunate to have a long and successful history, since 1926 we have brought the best products and the best brands to the security supply industry. This catalogue showcases these brands and their products to our customers Australasia-wide.
Graphic Design - Publication
Mayfield Lamps wanted to produce a showpiece catalogue to help celebrate its 70th year in business.
Graphic Design - Publication

Principle Design created a brand language that reflected the high quality interior finishes and understated, minimal design aesthetic of boutique residential development 35 Wellington St.
Graphic Design - Publication
A dead end on the wrong side of the tracks - this is how the 8 Montrose location could initially be described. This new residential tower was in an industrial back lot of Hawthorn East where a handful of other apartment blocks had already failed to sell. The project was smack next to the train station, bordered by a dingy laneway. The client was determined to sell the project offshore to Asian buyers, an audience that values safety, cleanliness and urbanity above all else. At first glance, this development lacked all three. We convinced the client to remove the rose coloured sunglasses by highlighting all the other highly attractive apartment buildings on the market in Hawthorn that were also targeting this Asian audience. We successfully altered the client's perspective and convinced them to pursue a new audience. Hawthorn is a blue chip, well heeled and familiar city suburb, just moments from the CBD as well as all Melbourne's coolest neighbourhoods. Embracing rather than sugar-coating the more industrial and edgy elements of the site, we repackaged these as assets with appeal to local buyers.
Graphic Design - Publication
Elton John has a copy and OPRAH claimed to want to "lick every page" of Butterflies and All Things Sweet: The Story of Ms B's Cakes. This is Ikon's Kate Dennis was creative director on this high profile coffee table book by Bonnae Gokson, a Hong Kong-based, world-renowned lifestyle guru, entrepreneur and restaurateur. The book was launched in September, 2013 at JOYCE Hong Kong, Shanghai and Beijing, followed by Manila and the Philippines. The New York launch in October 2013 was hosted by Ralph Lauren at his Madison Avenue store. Butterflies and All Things Sweet recently won in the Photography/Art category at the Paris Book Festival 2014.
Graphic Design - Three Dimensional
Revitalising the masculinity of the Australia tea market - This concept was the foundation to establishing the brand The Tea Guild as boutique Tea brand providing an offering to a male demographic, a sector typically neglected within the Australian market. Drawing from tradition and designing for longevity sees to the creation of this elegant and crafted brand and accompanying packaging system. The set includes custom fabricated tea tins, a Queensland Walnut storage box, stainless steel tea strainer, coasters and information guide.
Graphic Design - Three Dimensional

For a brand with emotional aspirations, Table of Plenty's old packaging was extremely rational with the brand sitting on the front face in a corporate fashion, quite separate from the main graphics of the pack. The new packaging had to better reflect their values, to look more innovative, creative and caring. In the design solution, a 'burst of abundance' forms a holding shape for the logo. This beautiful merging of watercolours and textures changes colour and density across flavour variants. Around the edge, leaves, birds and plants form a complex and stunning outline which evokes nature and celebration of life, whilst the negative space below the burst creates a 'subliminal' pair of cupped hands, underscoring the idea of nature's bounty, and something that customers can discover over time as they form a deeper connection with the brand and the pack sits on breakfast table after breakfast table. The brand name has gone from being a corporate-looking heading to a stunning device that is central to the pack creative, to create strong brand recognition. Overall, the pack stands out by creating a moment of quiet and beauty amongst the loudness of the supermarket cereal aisle.
Installation, Display, Exhibit & Set Design
MPavilion is a 12m x12m temporary pavilion in the Queen Victoria gardens. It is the first in a series of annual architectural commissions by the Naomi Milgrom Foundation. The pavilion hosts a programme of cultural events and activities and is open free to the general public. After four months the pavilion is dismantled and relocated to its permanent home after being gifted to the City of Melbourne.
Installation, Display, Exhibit & Set Design

Visitors enter a spiritual space to see and feel, creation in motion - past, present and future. The Creation Cinema, is an immersive multi-sensory experience inviting visitors to share a moment of spiritual and sensory awakening. It represents the essence of creation for the First Peoples across most of Victoria, showing their spiritual connection to country. Inspired by the notion of continuity and the omni-present nature of creation, the centerpiece of this experience, a large kinetic sculpture, symbolises Bunjil the Creator, a wedge tail eagle in flight. It also reflects a universal motion seen throughout nature - the movement of a wave, the lines of a mountain range, the undulations of a river, a snake moving across the land. The experience hopes to trigger reflections on the deep symbolism and resonance of Bunjil, who represents culture, the law, the land and the people.
Installation, Display, Exhibit & Set Design
The Design Wall was commissioned by the National Gallery of Victoria for the exhibition Melbourne Now (22 November 2013 - 23 March 2014) and is a celebration of art, architecture, design, performance and cultural practice in Melbourne. Curated by Simone LeAmon and designed by Edmund Carter and Simone LeAmon of Carter LeAmon, the Design Wall presented near 700 objects born of 40 design projects by 21 Melbourne design studios. Exploring the aesthetic of the production line, the layering and interlinking of design thematic, and the cultural context of the NGV, the Design Wall was a visually arresting, cross-media platform for the celebration of Melbourne's contemporary design capital.
Installation, Display, Exhibit & Set Design
The Family Feud set project began in late November 2013. The initial program for the whole exercise would see it completed in a six week period including Christmas / New Year! The ensuing scramble was slightly chaotic to say the least. It became quite a challenge to assemble a project team to deal with this expectation. The design was influenced by the numerous local and overseas iterations of this show, and how various producers/designers had approached the relatively simple concept and imposed their own styles. From the very early discussions with the creative producers at FremantleMedia, we had determined to pay homage to the history of the show by giving it a 'retro' look. We felt that it had to be visually familiar, but at the same time – engaging and 'fresh'. The first visual concepts were presented early December 2013, and were instantly well received. A brief delay in production to lock in a host – allowed us to refine and thoroughly document the design, and produce a detailed visual representation of the set for Network Approval. The physical fulfilment of the design / build process really pays homage to the talented contribution of the entire project team.
Interior Design - Corporate
Escala Partners is a fresh presence in Australia's wealth management landscape. As the embodiment of their brand, the new headquarters in Melbourne's Collins Street are a distinctive, game-changing affair in which quality and market differentiation pervade every space and surface. Dispelling the sterility of the commercial office typology, this project sought to treat the firm's clients uncommonly well and looked to social venues for inspiration. The project thus reimagines the cloistered clubs of mid-century Manhattan, when doing business was a glamorous act and a handshake sealed a deal. The holistic result is achieved at various scales. Throughout the space, a limited but cohesive palette of timeless materials affords a transportative experience, but very definitely not a stage set. At a finer scale, a painstaking gloss paint detail abstracts the coffered ceilings and wainscot panelling of historical interiors, while the entry signage and drinks list (offered to clients on arrival) are bound in leather that matches the nine-metre long custom chesterfield sofa. The project heralds a new benchmark in professional services environments and workplace design, suggesting that work is meant to be enjoyed and conversations about money are allowed to happen in the presence of beauty.
Interior Design - Corporate

Compulsive Productions is a film production studio that offer motion graphic, post production and audio mixing services. The fit-out of their studio was an exercise in combining new workplace and brand evolution. Client and Architect together actualized a business strategy to host collaborative in-house associations with advertising agencies, independent production freelancers and local creatives - a kind-of hybrid private and public work and event space - and one that is to be shared and advertised as such.
Interior Design - Corporate
We were invited to create a new Headquarters and home base for T2. They are a young, hardworking but relaxed company with multiple teams collaborating to a common goal. As such we have created a space that is both professional yet relaxed and reflects the modern approach that T2 take to tea retailing.
Interior Design - Corporate
The ACMA is a multi-level workplace interior fit out for the Australian Communication and Media Authority. The building consisted of 3100 m2 floor plate with an inter- connecting stair. The interconnecting stair was planned as the heart of the fit out, set beside a multi-coloured 'convergence spine' which traverses the 2 floors. The coloured spine adopts ACMA's branding colours and connects external visitors to the ACMA's staff as it penetrates through to the workplace on level 33.
Interior Design - Hospitality
Slow food, swift service, stylish design: Charlie & Co is the ultimate burger experience. We were invited to design the Sydney-born burger bar's first Melbourne offering. Located at the Emporium, this site is the first iteration of the brand outside of its original inception at the Westfield in Sydney's CBD. The brand pays homage to the legendary "Hamburger CharIie" of Seymour, Wisconsin, one of the genuine trailblazers of the hamburger. Just as the original maestro was committed to handcrafting premium burgers from the freshest produce, the design too is based on high quality classics that stand out.
Interior Design - Hospitality
With a Scandinavian feel to the interior, Cobb Lane squeezes into a tiny retail space. The café melds traditional front of house with the working bakery through a pallet of materiality and colour that reflects the vibrancy of both the street and the culinary flair of renowned pastry chef Matt Forbes.
Interior Design - Hospitality

Feast of Merit is a YGAP charity initiative – a restaurant offering ethically sustainable food in a space that encompasses the communal ethos of the cause. Providing services pro bono as part of the Feast of Merit Design Team, our challenge was to convert a rundown café in Richmond into a flagship for the charity's new venture. A unique project where design professionals donated their time to create a venue that not only represented an amazing charity, but also a dining venue that encompasses the growing culinary stature of Richmond.
Interior Design - Public or Institutional

'The Community Hall seeks to expand the vocabulary of architectural expression and engages in the articulation of complex issues, such as the representation of a city's culture and identity. The Community Hall for Melbourne Now is a flexible multi-use space that creates a bold statement of inclusivity and egalitarianism at the front door of NGV International. Drawing inspiration from the social and cultural spaces of Victorian communities, Community Hall takes tradition to new heights through cutting-edge architecture and dynamic programming. The space offers a hub of activity positioned at the heart of Melbourne Now. The design for the space is at once iconic and pragmatic. The architecture integrates a broad range of social and cultural references into one seamless arc of inclusion. Set alight with bold colours which can be seen through the famous NGV Waterwall, this stunning new structure is a space with both social and architectural meaning that people will never forget.' - Ewan McEoin
Interior Design - Residential
'The Quays' is a mixed-use and apartment development by MAB Corporation in the NewQuay precinct of Melbourne's Docklands. Its sinuous form offers a sensual counterpoint to the series of sentinel towers that currently line the waters' edge. Located on a prominent intersection, 'The Quays' provides a major new frontage and potentially new perception of the Docklands. In addition to punctuating this significant corner with a new local landmark, the towers provide a figurehead to the series of existing towers. 'Choice' something rare when it comes to apartments. 'The Quays' offers choice abundant; choice in apartment design, choice in the colour of the apartments, and choice in the kind of space that people can occupy and share together, outside of their apartments. Ultimately, the design aims to re-establish a sense of community through the creation of a permeable ground plane, providing spaces that would actually be used and fulfil a need, whilst adding complexity and diversity to the Docklands. 'The Quays' seeks to introduce 'cultural intelligence' through collaborations with artists of all kinds. It is a building that is inclusive of people in all their wonderful variety; a building that is a bit of fun.
Interior Design - Residential
This countryside house that has been fully restored with the original elements remaining completely untouched is situated on a farmland with sweeping views over rolling hills to the sea in the far distance.
Interior Design - Residential

The furniture concept in this glamorous, unexpectedly modern Melbourne penthouse responds to the material palette of the interior fitout and our clients' desire for a city pad that's made for entertaining and escape. The apartment architecture and interior was designed by Melbourne architecture practice, Fitt de Felice, and construction was underway when we were engaged to furnish the spaces. The large apartment is broadly divided into two discrete zones – public and private – and each space showcases a distinct composition of materials (timber, travertine, leather, metal and polished plaster). Our furnishing palette intentionally engages moody monochrome fabrics as a subtle counterpoint to this rich and varied backdrop. The furniture concept draws inspiration from lesser-known designer furniture pieces with distinctive sculptural forms that hold their own against the architecture and the ever-present city skyline beyond. The galactic result – appropriate more than 80 floors in the sky – is reductive and confident.
Interior Design - Retail
Located in the heart of Melbourne's evolving Smith Street Collingwood sits Happy Valley, a new concept store for design, art, and books founded by former Polyester Records and Tramway Hotel owner Chris Crouch. Happy Valley is a retail space that combines a gallery feel with a retail shop, where customers can enjoy the space, find a great gift and be reflective of independent and local design that is practical and affordable.
Interior Design - Retail
Positioned in the art grunge scene of Melbourne's iconic Brunswick Street Fitzroy, Wine Republic is a 100m2 new concept store redefining the humble bottle shop.
Interior Design - Retail

Jones the Grocer is an iconic Australian brand that arrived on the Sydney food scene in 1996. Since then Landini Associates has helped expand and develop its offer overseas. Initially conceived as a 200 Sq M format it is now being implemented at many times that size incorporating all day dining, the theatre of open kitchens and bakeries as well as it's legendry cheese and wine room experience. Jones seeks out specialty food and ingredients from all over the world, often from family makers of many generations, and brings these together for the foodie in us all. To mark the next step in the Jones journey, our task was to reintroduce the brand to Melbourne by way of a flagship store in the glamorous Emporium Melbourne.
Landscape Design

Box Hill Gardens is a historical park, 14 kilometres from Melbourne. ASPECT Studios and NMBW Architecture Studio were commissioned by Whitehorse City Council to create an innovative multi-purpose space within the well-loved Box Hill Gardens. Three key concepts have driven the design: 1. Creation of a contemporary recreational and events surface, which functions as a flexible community space, providing courts for multiple sport and activities and areas for public events. 2. Part of the former tennis clubhouse has been retained and reused as seating platforms, while recycled bricks from its demolition have been used for the walls and floor of a new amenities building and associated brick platforms and ledges. Brick is used as a mediating device between hard and soft landscape, tying diverse functional elements together through its repeated use. 3. Use of colour and graphics to encourage activity and to create a distinct surface that differentiates itself from the existing park character. A dynamic super graphic creates an iconic and playful destination. The final design of the space successfully embodies a bold contemporary aesthetic with layers of history and memory, and the careful integration of landscape and built form elements.
Marketing - Branded Experience
The Fair Work Ombudsman is an independent statutory office which has a legislative responsibility to promote harmonious, productive and cooperative workplaces, and educate people working in Australia about their workplace rights and obligations. Falinc was engaged to produce the campaign for the Annual Wage Review 2014. The purpose of the campaign was to raise awareness amongst workplace participants about the annual wage review, drive traffic to the new website, persuade signup to social media, whilst signalling change for both the FWO as an agency and its operations.
Marketing - Branded Experience
As part of a national rebrand designed to celebrate the best of the past by redefining it for the future, Optus Singtel embarked on a redesign of their single biggest brand experience touchpoint...their retail stores. The second-ranked mobile carrier worked with greater group to redefine the customer experience, introducing innovative design, interactive selling tools and communications to deliver an experiential store. As part of a 300 store rollout, Queen Street is the premier flagship in Brisbane and the largest in the fleet to date.
Marketing - Branded Experience
Carrspace partnered with Renault Australia to develop a dynamic, interactive and educational experience for fans at the Australian Grand Prix. The 'Powered by Passion Lab' brought Renault's rich motorsport heritage to life though sound, visuals, a world-first heart-rate racing challenge and was supported by pop-up events in Melbourne and Sydney, a free downloadable App, a dedicated Formula One microsite and a strong social media campaign. The campaign was an overwhelming success with over 323,000 impressions linking Renault & Formula One, an increase in qualified leads by over 300%, thousands of social media views, and recognition by the international head office of Renault Sport F1 as an example of global best-practice.
Marketing - Branded Experience

A university's Open Day is the biggest day of the year and its best chance to attract new enrolments. In 2014, it goes without saying that whatever universities do needs to engage and appeal to a tech-savvy audience. To really set Deakin apart and build the type of buzz that would get even the most savvy audience engaged, we created an interactive, socially charged activation. As the name suggests, Super Happy Prize Time was the ultimate game for prospective students who used their phones to interact with a 15 screen megawall by logging in with Facebook and entering coordinates to win a range of great prizes including Deakin merchandise.
Product Design - Commercial & Industry

Utilising Axolotl's proprietary bonding process, we can replicate the natural aesthetic of terracotta perfectly, while making it simpler and more cost effective. Axolotl Terracotta retains the integrity of natural terracotta with variance in texture and colour. The unique coating process enables Axolotl Terracotta to be utilised in situations never before considered possible in design. In keeping with Axolotl's current practises, Axolotl Terracotta can be bonded onto traditional building materials. This allows the terracotta aesthetic to be realised anywhere you may normally use aluminium, CFC sheeting or stainless steel, in virtually any size or shape. Additionally, the issues of shrinkage, weight, scale and manufacturing times found with traditional terracotta are dramatically improved. Axolotl Terracotta is Australian produced and manufactured. It is offered in a range of colours and textures and has unlimited design potential, each project can be further individualised with Axolotl's in-house ability to carve or etch custom designs onto the surface. Terracotta has long been a part of our built environment as a beautiful and timeless building product. Now Axolotl Terracotta reinvents this classic beauty to be more cost and production effective, without losing any of its aesthetic qualities.
Product Design - Commercial & Industry
The need to be connected and the increasing reliance on portable devices is creating unprecedented demands for access to powerpoints to charge devices at home and at work. Featuring smart, integrated dual USB modules, the Legrand and HPM USB Powerpoints allow users to charge phones, tablets, sports watches and cameras at top speed without having to unplug kitchen appliances, bedside lamps or computers. The USB Powerpoints feature a market-leading charging capacity of 4.2A and can safely, simultaneously charge any combination of USB devices at the maximum charging speed of the device. They are currently the only USB Powerpoint on the market capable of charging two tablets at top speed, at the same time. Ideal for kitchens, bedrooms, living rooms and home offices, homeowners can choose from more than 40 colours and finishes for seamless integration in classic, stylish or colourful interiors. For neater counters and tables, add them inside pantries and cupboards and keep any unsightly cord tangles behind closed doors. Suitable for new or retrofit installations, the HPM and Legrand USB Powerpoints were finalists in the 2014 Good Design Awards and displayed in the Good Design Australia exhibition at the Powerhouse Museum.
Product Design - Commercial & Industry
The D900+ LED downlight is a versatile low-energy recessed interior downlight that evolves with needs and tastes throughout its 30-year, 70,000-hour lifetime. The D900+ incorporates: • A simple twist-on, twist-off interchangeable fascia system with a range of colours, forms and beam-angling fascias; property owners, architects and interior designers have the freedom to experiment and push the boundaries of current interior lighting trends, and the core lighting unit is prevented from being replaced if styles and tastes change. • A trimless design, providing the option for trimless installation; ideal for minimal projects. • Universal gimballing with a unique reduced-airflow design; allows for tilting 30° in any direction without compromising insulation. • Market-leading brightness and light quality using as little energy as possible; Tru-Colour technology (95+CRI light quality) for vibrant colours, defined details and flattering skin tones, and an efficacy of 61 lumens per Watt. • Exceptional product lifetime and warranty; premium componentry that guarantees light quality and brightness over the product's lifetime.
Product Design - Commercial & Industry
Flat Raq is a folding bike rack designed for temporary use at outdoor events and public spaces. It's innovative lock and fold mechanism allows the rack to be folded down for storage when not in use and easily set up by a single person. It is fully designed, developed and manufactured in Australia
Product Design - Commercial & Industry
The modernising architectural industry's focus on sustainability initiatives has consequently pressured door fabricators to uphold the increased demand for highly sustainable double and triple glazed panels. CiiLOCK Engineering's Mother of All Rollers' ingenious design offers the industry a solution to maintaining these requirements. Inspired by the brilliance and supportive strength of the ancient Roman Arches, the Mother of All Rollers' intelligent self-levelling mechanism contrasts traditional designs via its ability to sustain 300kg panels – all while maintaining an aesthetically pleasing, slim profile accommodating a diverse range of extrusions.
Product Design - Entertainment

The Kyron Audio Kronos is an extreme-fidelity music reproduction system. Removing the speaker enclosure has allowed for an increase in sound quality and the ability to create a unique and beautiful form that is in itself an artistic expression. Kronos integrates the loudspeakers, amplifiers and preamplifiers into a synergistic system to create a plug and play home stereo experience unlike any other for the ears, eyes and soul.
Product Design - Entertainment
The ATOM is the first of a new wave of ultra portable Photo Booths designed to be cheaper, lighter, faster and easier to operate while reducing running costs for businesses.
Product Design - Personal Use

Orbitkey transforms your clutter of keys into a manageable, organized stack that is also stylish. Best of all, there is no longer jingling noise when you exercise with your keys in your pocket.
Product Design - Personal Use
The Farrah wallet is a piece of "life equipment" a product that is designed for everyday life and made to last a lifetime. It explores the way in which materials can interact, allowing the base material to solve more of the design problem through manipulation rather than machining or changing the core characteristics of the base material, leather.
Product Design - Personal Use
Silo Mesh Card is the modern multi-tool for your pocket. Keep it in your wallet or let it become your wallet. Crafted from Titanium with scratch-resistant TiCN coating, the Mesh Card is built to last and includes removable silicone band for holding cards and currency. Thin and versatile; this ultra-light wallet is also a Smartphone stand, bottle opener and will even help shield your credit card details from RFID theft.
Product Design - Sport - Active Life

Kick it Straight. The Moose Kicking Tee is a completely new way to support ovoid balls for both training and in-game use. The core innovation is to provide space for the foot to kick straight through under the ball. This straight through action delivers incredible accuracy for the ideal penalty goal kick. The drop punt kick is used in many Australian football codes for accurate distance kicking. The Kicking Tee enables the drop punt to be practised, as the tee, in effect, isolates the kicking action. This very straight kicking technique perfected in AFL (Australian Football League) can now be used for better placement goal kicking in both Rugby League and Rugby Union. The orientation and relative positions of the four points of the antlers that make contact with the ball are critical for ball contact and flight. This tee is not similar to other kicking tees because the ball support arrangement and open space beneath is completely unique. The product is now on the market and selling well with very positive feedback from users.
Product Design - Sport - Active Life
776BC, the founding year of the Ancient Olympic Games, this is when sport as we know it was born. 776BC offers athlete inspired performance via a range of specialised performance sportswear developed and tested by the world's best athletes. The range combines performance, style and quality to meet the needs of athletes from the start of their journey right through to competing on the world stage.
Product Design - Concept

Two years ago I read a report that said a fire engulfed a high-rise building and killed almost 50 people in Shanghai. I did not expect that a 28-storey tenders a huge challenge to modern fire fighting. And that led me to undertake this project. Imagine climbing 30 storeys of stairs while wearing 30 pounds of fire gear. That's the reality for many high-rise firefighters. The A.F.A powered exoskeleton suit will give them a little help. The exoskeleton suit will increase performance in walking, running and carrying up to 91 kg while high-rise fire frightening. The device transfers its weight, load directly to the ground, so firefighters don't bear the weight.
Product Design - Home & Garden
Seeley International is the first Australian manufacturer to introduce a touch screen MagIQ Touch Controller for evaporative cooling products, and like Seeley International's other industry-leading products, it has been developed and is being manufactured right here in Australia. The MagIQtouch Controller is unique in the sense that it meets the needs of various users – service agents, installers and end consumers. The controller facilitates the evaporative cooler installation process, displays information for each of the fault codes as a troubleshooting guide, and facilitates the end consumer's experience with the product, for example, by offering energy saving modes.
Product Design - Home & Garden
For Dan de Groot and his brother Anthony, taking on a workshop space in Campbellfield meant they could experiment with design, make as much noise and as many mistakes as they wanted - and create their first unique furniture range for their company TUCKBOX. The TUCKBOX collection comes from a place that celebrates locally sourced materials and resources, while also allowing enough flexibility in the range to appeal to those looking for customised pieces to really suit their home.
Product Design - Home & Garden

The Glowpear™ Urban Garden is a modular, self watering planter with an iconic, contemporary design aesthetic and durable construction making it perfect for balconies, courtyards, decks and patios. Innovative design features with robust construction mean the product is suitable for either indoor or outdoor use. Designed for growing a wide range of fruits, vegetables, herbs, and flowers in the urban environment, no space is too large or small for the Glowpear™ Urban Garden. The feature-packed Glowpear™ Urban Garden brings together function and form, seamlessly integrating all the functionality today's urban farmer needs. The Glowpear™ Urban Garden grows with you.
Product Design - Home & Garden
Elevare is an elegant solution to create beautiful legs simply.
Product Design - Medical

The IQStick is a new approach to walking stick design. Using modern, lightweight and high strength materials, a design emerged for a product that overcomes many of the problems associated with traditional design. An easier to use walking stick will make for a more active life, and a safer one , for many people. In NSW , no other single injury cause, including road trauma costs the health system more than fall injury In 2006/7 this was estimated at $558.5 million. These statistics will almost certainly be similar across Australia. Traditional walking sticks have a tendency to fall over easily even when care is taken to find a suitable rest for them. In Many situations it simply is not possible to find a place to rest the stick, which makes attending to even simple tasks difficult. Inevitably walking sticks which are rested against some suitable surface will fall over. Bending over to retrieve the implement places the user in a position where the risk of falling is markedly increased. IQStick overcomes all of these problems,and more.
Product Design - Office

Introducing: the original, oh-so-handsome, DeskPal. Carved from a single solid block of timber with classic well proportioned design. DeskPal promises to clean up that workspace while looking sharp and dapper at the same time.
Product Design - Textile + Surface

As a company that lives and breathes handbags and accessories, we constantly strive to create products that make people feel happy and inspired. In knowing we are all different, we believe in individuality being the key. Who doesn't love standing out from the crowd! All our prints are created from scratch in our Melbourne based textile design studio, with a whole lot of love and passion going into every little detail. If you were to visit us, you would find us passionately thinking up new artwork, mixing up paint, and playing with fabrics. Our focus is to create something brand new for our customers, something that would excite them!
Product Design - Textile + Surface
Design for application is a defining quality of products, this project investigates the various possibilities of a textile design to effect the aesthetics of objects and the impact a print can have on dictating the placement, location and occasion of an item.
Service - Government

Did you know that we probably drink the same water as the dinosaurs drank? South East Water approached us to turn their approach to helping primary school teachers educate kids about water on it's head. We had to make it fun, engaging and educational. Including parallax animation to discover water cycles, games and easy access for teachers to lesson plans and information - it was an education in itself just working on this site.
Service - Government
DEATH, DYING and DONATION. This is a difficult subject to broach with Australians. In collaboration with creative digital consultancy Reading Room, the Organ and Tissue Authority are driving a DISCOVER, DECIDE, DISCUSS campaign message through digital, encouraging individuals and families to discover the true facts, make informed decisions, discuss and know family members' organ donation choices. At the same time, Reading Room successfully brought the Authority's own wider identity and matured purpose to the fore, capitalising on the previous success of DonateLife but evolving the message from singular to dual purpose, under the DonateLife domain but with clear connection and ownership by the Authority. With the Authority's annual DonateLife week promotional drive less than 2 months away, Reading Room and the OTA team revitalised the donatelife.gov.au site in record time while building a new digital voice for the wider Organ and Tissue Authority (the force behind the brand) without diluting the impact of the already successful DonateLife campaign branding and message.
Service - Retail Experience
Suncorp required a store design that supported the bank's growth in new markets and spoke to customers needs in this market.
Service - Retail Experience

As part of a national rebrand designed to celebrate the best of the past by redefining it for the future, Optus Singtel embarked on a redesign of their retail store experience to create the new YES concept. The second-ranked mobile carrier worked with greater group to redefine the customer experience, introducing innovative design, interactive selling tools and communications to deliver an experiential store. As part of a 300 store rollout, Queen Street in Brisbane is the premier flagship experience store.
Services - Community

For every community program that is run there are a number of support processes that need to happen behind the scenes to make the program run smoothly. With any service provision it is important to ensure that the support processes don't detract from the main purpose of the program – in this case, supporting members of the Victorian public to live a healthier lifestyle. The Customer Experience Company partnered with Diabetes Australia Victoria to redesign Life! program's key support processes.
Services - Community
Pop-up urban renewal projects are inspiring neighbours to get to know each other, and effect lasting change, thanks to the Rapid Urban Revitalisation toolkit. The toolkit contains over 100 fun and playful ways to transform your neighbourhood in a weekend. Download the free toolkit here: http://issuu.com/impactbydesign/docs/flashcards_final_review Watch this 2 minute Documentary from Architel.tv: http://architel.tv/episode-32-rapid-urban-revitalisation/
Urban Design

To facilitate change, one cannot be a bystander... one needs to be a leader. On the 16th of July 2013 the Victorian Government released the reference design for the East West Link toll road project for Melbourne. Community groups, professionals, various experts and councils all agree – the original design is a debacle. However, one community group – Safety Net for Royal Park – felt that they could do more than simply protest. They could research and develop an alternate toll road design themselves. But how would the decision-makers and the public visualize it? So they commissioned architects Atelier Red+Black to integrate Urban design principles into their alternate vision. This collaboration resulted in the Better East West Link Design. It is a model for how the community can be engaged in shaping their city.
Wayfinding
In 2011 City of Greater Dandenong (Council) engaged A to B Wayfinding to produce wayfinding signage strategy and design for Springvale activity centre. Through robust process of design collaboration A to B Wayfinding has produced Springvale Wayfinding Signage strategy and style guide. The guide consist of a suite of family signs, which includes quad plinth, double plinth, wall mounted, bin mounted, fingerboard, curb & wall markers, site identification straddle & wall mounted signs. Each of these signs are designed to fulfil a particular role and function either to provide a sense of direction, to assist navigation between the key destinations, to provide a point of affirmations, or to welcome people at each of the key destinations. The quad plinth also accommodates a community notice board panel on one side of this plinth. At present, the Springvale Wayfinding Signs project has been implemented in 3 stages of roll-out involving a total capital value of $190k.
Wayfinding
Mater Christi College is a vibrant and innovative Catholic girls secondary school located in Melbourne's picturesque Dandenong Ranges, and proudly for us, a ten year client with TANK. To coincide with their 50 year celebrations, we collaborated in the creation of an ambitious wayfinding system to enliven the college grounds and user experience. In doing this, we also had to achieve a number of critical aims – to embrace the College's values, acknowledge and celebrate its past, and inspire the people at the centre of its community – students, staff and parents.
Wayfinding

Buro North were engaged to work collaboratively with Monash University to develop a new addressing strategy, wayfinding principles and signage system for their campuses. We developed a strategic position that allows them to self manage their signage and wayfinding needs into the future, whilst using a robust and flexible strategy that is supported by contemporary sign designs that align with their brand vision, future campus design principles and respond to user testing. Following the testing phase undertaken to assess the existing conditions, Buro North tested the new design solution using the same process and questions. Findings were conclusive in that 100% of users tested could find themselves on the campus map, as opposed to just 58% previously, with a similar increase in performance across a range of tasks including identification of major pathways, buildings and route planning to end destinations. The design solution has been positively received by both the University and users, and has stood up to the rigours of cleaning schedules, graffiti and vandalism and student open day...
2014 Presentation
Photo Gallery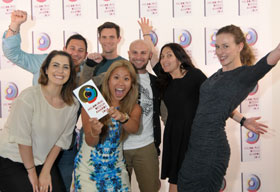 Don't forget to tag yourself, friends and colleagues in the photos.