Marketing - Branded Experience
This award celebrates creative and innovative design for branded experiences intended to persuade an audience to purchase or take some action upon products, ideas or services. Consideration given to the technical, conceptual and aesthetic elements, user experience, audience engagement and message delivery.
Nominations in Category
Marketing - Branded Experience
LOVE was briefed to develop a new experience to delight both consumers and the trade for Moët & Chandon Ice Impérial, the first and only champagne especially created to be enjoyed over ice. LOVE recognised the need to overcome the summer season's parade of copycat brand behaviour, which results in pedestrian and predictable communications. Instead Moët & Chandon Ice Imperial needed to be more daring, playful and reinforce the USP of the product...ICE.
Marketing - Branded Experience
Vodafone wanted to do something a little different with its headline sponsorship of Capital's Summertime Ball in 2016, to truly connect with the event's target audience of tech savvy, music loving 13-19 year olds. The result? An integrated campaign with brand experience at its core. Vodafone Future Breakers Live, or 'the party before the party' brought the Future Breakers platform to life in front of attendees' eyes, ramping them up for their day ahead at Capital's Summertime Ball. From 9am through to 2pm consumers could explore four different experience areas, including the Future Breakers Live Stage, Superstar Village, Emoji Orchard and Secret Garden. Key results include: 96% per cent of attendees could recall that Vodafone was sponsor of Capital's Summertime Ball 2016 unprompted, 98% when prompted, and the activation was visible to 50,000+ people on the day. 58% of attendees are now more likely to consider Vodafone as a result of the event sponsorship.
Marketing - Branded Experience
For 10 years now PROOFF has been an early-mover in the world of innovative spatial furniture design and we continue to push the boundaries with thought provoking views on the future of workspaces. This time we investigated a combination of the physical with innovative and disruptive VR technology.
Marketing - Branded Experience
Jaguar offered a first look at the Jaguar I-PACE Concept, an all-electric performance SUV(1), ahead of its global debut at the Los Angeles Auto Show with an exclusive VIP reception at MILK Studios in Los Angeles. Actress Michelle Rodriguez, late night-talk show host James Corden, supermodel Miranda Kerr, musician Gavin Rossdale, model David Gandy and Washington Nationals right fielder Bryce Harper, took part in a world-first, live cross-continent virtual reality reveal experience that transported the audience into a unique virtual world to explore the I-PACE Concept vehicle. The Jaguar I-PACE Concept(1) Vehicle is the start of a new era for Jaguar. This is a production preview of the Jaguar I-PACE, which will be revealed next year and on the road in 2018. Customers can register now at jaguarusa.com to be one of the first I-PACE owners. Jaguar's engineering and design teams have torn up the rule book to create a bespoke electric architecture, matched with dramatic design. The result is a no-compromise smart, five seat sports car and a performance SUV in one.
Marketing - Branded Experience
This year Claridge's lobby is home to much more than a Christmas Tree. Sir Jony Ive and Marc Newson, in collaboration with renowned British set designer Michael Howells, have created an immersive festive installation. Step through Claridge's revolving doors this Christmas and you will find yourself in a magical, snow-covered forest.


Past Nominations
2016 Presentation
Photo Gallery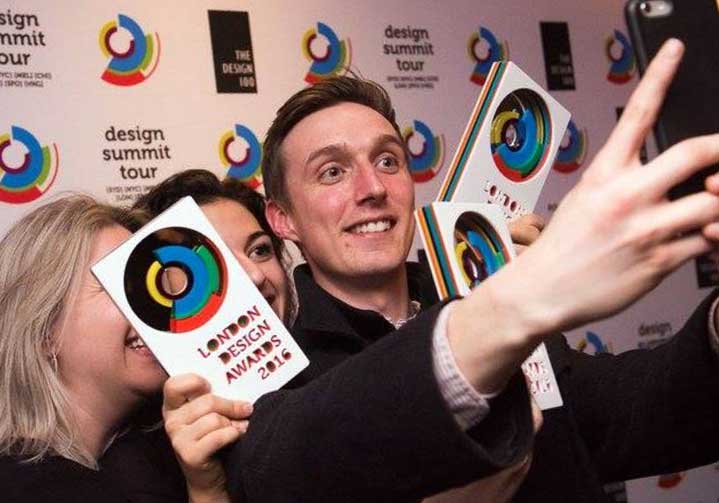 Don't forget to tag yourself, friends and colleges in the photos.