Awards Nominations
Product Design - Home
Control and monitor your sprinkler system from anywhere in the world using your web browser or our iPhone and Android apps. Unlike others, you don't need to perform any complicated port forwarding on your router and expose your system to security risks to control your system from anywhere in the world. A Hydrawise system is expandable to 36 zones, each of which can be assigned an individual name and tailored watering schedule based on the weather. Managing your garden's watering has never been so simple and fun.
Product Design - Office
Recreation of a market leading classic design. Ellipta monitor arm was the first LCD arm to use a tension spring as opposed to the much more expensive and environmentally unfriendly 'Gas struts'. Now every major manufacture uses a spring.
2015 Presentation
Photo Gallery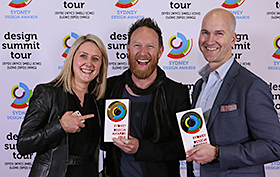 Don't forget to tag yourself, friends and colleges in the photos.
Best Of Categories
Who will win the Best of Categories?
Here are a few tips on how to improve your running. more