Awards Nominations
Advertising - Outdoor, Retail, POS
A simple Straw Dispenser that uses only 4 parts, displays 3 bottles and releases straws quickly and simply.
Product Design - Home
A hybrid dustpan / lobby pan that fuses the benefits of both items delivering a household cleaning item that cleans quickly, easily and effectively. It is extremely suited to the elderly population where crouching down to clean small areas is eliminated and its space efficient design can be conveniently stored away for later use. At a very affordable cost of less than $15.
Product Design - Personal Use
Elevare is an elegant solution to create beautiful legs simply.
2014 Presentation
Photo Gallery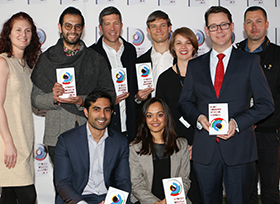 Don't forget to tag yourself, friends and colleges in the photos.
Best Of Categories
All entries submitted are automatically eligible for the relevant "Best of" category.