Awards Nominations
Advertising - Outdoor, Retail, POS

It's easy to think that all home loans, or even all banks, are all the same. NAB continually work to stand out and demonstrate that they are not like the other banks. The spring mortgages campaign is a specific retail campaign developed for NAB, with the aim of positioning NAB as the experts in home loans. The campaign idea, developed by Clemenger BBDO, tapped into the insight that everyone has an opinion on the best home loan, but only an expert can recommend the right home loan for an individual's needs. We were asked to execute this idea across the retail network using NAB's flexible identity system.
Graphic Design - Illustration and Type

SmartATMs are designed to make banking quicker and easier. The SmartATM illustration suite tapped into this idea with a range of ATM characters that demonstrated the different transactions that can be done with a SmartATM, in a cheeky and engaging manner.
Graphic Design - Corporate Identity and Branding

Since its inception, NAB's learning center, The Academy, has been built around creating transformational journeys for its staff. While they enjoyed a successful rebrand in 2009, NAB felt it was time for The Academy itself to go through its own transformational journey, refreshing the brand to further enhance its standing within the broader NAB business. With this in mind a new visual language was developed for 2014, keeping the brand up to date, with a new illustrative style and guidelines for all brand communications it created.
Graphic Design - Corporate Identity and Branding
In the hectic property marketing and development space, it's easy to get lost among the competition. Oliver Hume needed to stand out in a crowded marketplace. They had a strong reputation in the industry for selling and marketing land for development, but were not as well known as they should have been. There is a strong vision within the business to become a leading multi-disciplinary property services and funds management business across Australia and Asia. They needed a fresh, bold new identity, one that broke the standard category conventions, to support this vision. So they were looking not just to sell and market properties, but to reshape their business.
Graphic Design - Corporate Identity and Branding

Essentially NAB's Asset Management arm had being operating under its own set of identity rules, detached from the NAB family visually and working in isolation to the parent brand. The task for the rebrand was to inject a sense of 'NABness' into the brand, making the link to the parent brand obvious, while also extending the brand to engage with a more complex audience and allow it to have its own unique sense of identity.
2014 Presentation
Photo Gallery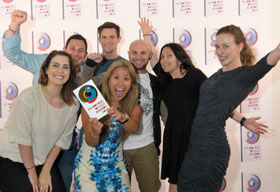 Don't forget to tag yourself, friends and colleagues in the photos.